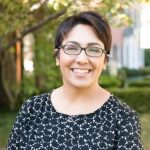 Kathleen Field
Staff Attorney at Indiana University Student Legal Services
Bachelor's degree in Mathematics in 2005
JD from Indiana University School of Law in 2009
I was accepted to law school during my senior year at Truman, however, I deferred admission for one year. I moved to Zhengzhou, China with three of my best friends after graduation. We taught English and traveled around China for a year. In 2006 I started law school at Indiana University. I graduated in 2009 with my JD.
Why I chose math as a major:
I enjoyed the corny jokes. Truth. Also because as a freshman, Truman didn't put me in any math classes as an "undeclared" student and that didn't seem right to me. So, I went full steam ahead, Math.
Current Position:
Staff Attorney at Indiana University Student Legal Services. After law school I clerked in federal court, then I was briefly in private practice at a boutique employment litigation firm before I returned to IU to take my current position. My current position is largely a teaching role in which I supervise and guide law student interns. I like teaching and training law students to be excellent and thoughtful legal writers.
How I use math in my job:
I use math skills in my legal writing. It isn't explicit, but the same sort of analysis you use in proof writing makes for pretty compelling legal argument.
Advice for students getting ready to hit the job market or apply to graduate school:
You can do ANYTHING with your math degree. Truman is a great school and you are an intelligent and well-rounded person. Don't let others impose limits on your pursuits because of their inability to think creatively or properly value the tremendous wealth of knowledge and skill you bring to the table…have confidence in yourself, demonstrate your chops, and let your ingenuity and adaptability persuade them that they want YOU.