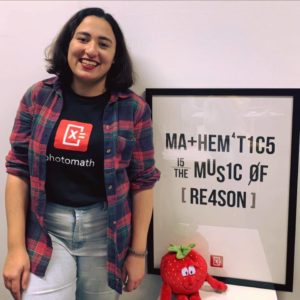 Stuti Chugh
Data Analyst at Photomath
Bachelor's degree in Mathematics with a minor in CS in 2016
Master's degree in Applied Mathematics from University of Missouri in 2018
I chose a math major simply because I really enjoyed it. I started off as a computer science major but very quickly switched to being a double major after seeing how much I enjoyed my calculus class at the time. I feel mathematics is like exercising, but for your brain. It feels challenging and at times painful; but it also leads to a wonderful endorphin rush afterwards, just like after a workout ( à la runner's high).
Current Position:
I am a data analyst at Photomath. Ever since I spent a summer in San Francisco teaching for a non-profit called Girls Who Code, I wanted to come back to the Bay and find a role that'd be a 70/30 combination of math and computer science. I was pointed in the direction of data driven roles. Given that Photomath was a company with the word math in it, I was drawn to apply to their data analyst position when I saw it on LinkedIn. When I came in for the interview to present my analysis of a data challenge they sent me, I realized how good of a fit Photomath and I would be for each other given that their mission is to make math every student's favorite subject.
How I use math in my job:
Since I work at an Ed Tech company that helps students learn math, I am constantly consulted while QA-ing problem solutions. Photomath has its HQ in Croatia where I got a chance to do meet the content team who are all math teachers, but I am the only math major in the US team which is why I am often the last word when it comes to solution credibility. Aside from that, my main responsibilities as a data analyst entails working with bigquery, SQL, Tableau, and other data analysis or visualization tools which makes it sound like its all computer science/technical work but to me those are just tools I use that would be rendered useless if I didn't have the problem solving skills I have; thanks to my math education. From something as straightforward as calculating statistical significance of a data inference, to something as abstract as being able to make an educated guess or take an intuitive next step in a project, I believe my problem solving skills come in handy. I believe these skills were developed and honed by solving complex math problems and writing proofs.
Advice for students getting ready to hit the job market or apply to graduate school:
Don't limit yourself to a few things that seem to be all you can do with a math major because your degree implies that you will be a good problem solver, a skill desired in almost all lines of work. I like to write comedy for open mics and I believe my math skills even transfer indirectly in that sphere because I have been told I structure my joke telling in a very unique way. I would also urge students to pair math with another major that appeals to them to boost their chances at a job. Computer science, statistics, and philosophy are some good choices but I also know English and music majors who studied math as well. Math helps them structure their artistic and/or literary works in a very methodical way giving them an edge over others in their field.