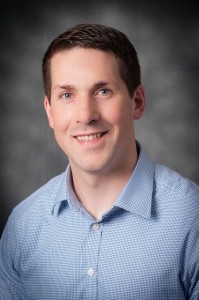 Sean Jackson
Pricing Actuary at Munich American Reassurance Company
Bachelor's degree in Mathematics with minors in Statistics and Actuarial Science in 2009
Master's in Actuarial Science at the University of Iowa in 2010
Like many, I didn't really know what I wanted to do when I came to Truman.  I knew that I was good at math and that I liked it better than the other subjects I studied in high school so I stuck with it.
Immediately after graduating from Truman, I started the Masters in Actuarial Science program at the University of Iowa.  For those that are not familiar with the actuarial profession, it entails a series of professional examinations that take quite a few years to complete.  In order to get a job, a candidate will typically need to have 2 or 3 exams passed.  I didn't really decide on the actuarial career until my senior year, so I had only passed one exam by the time I graduated.  I decided that the program at Iowa was a good option because it would prepare me to pass more exams and I was offered a position as a teaching assistant so it cost me very little.
How I use math in my job:
I use math at my job on a daily basis. However, I don't really calculate anything by hand for the most part.  All of the calculations necessary for my job are done by computers using Excel, MS Access, R, or various actuarial software packages.  A lot of what I do involves knowing how to setup software to perform that calculations that I want done and then being able to interpret the results.  To do this well, I need to have an understanding of the underlying math and the calculations going on behind the scenes.
Advice for students getting ready to hit the job market or apply to graduate school:
For the job seekers, take advantage of mock/practice interviews as much as possible.  Interviewing is a skill and the more practice you can get interviewing the better.  In addition, I strongly believe that the problem solving and critical thinking skills you learn from a proof based math curriculum are extremely valuable in the professional world.  The ability to piece together different parts of a problem and discern what is important (and what isn't), in my opinion, gives math majors a way of thinking and clarity of focus that not everyone else has.  The challenge you have as a job seeker is selling this and all of your other skills to potential employers.  One of the best ways to do this is through an internship.  If you know what field you want to go into, try to get an internship or some other way to get experience.  If you aren't sure what you want to do or if you are unable to secure an internship, try to do a project that is applicable to the field you want to enter.  For example, you could do your capstone project on some application of mathematics to an area relevant to your future career.  This will give you a hands-on, real-world example to discuss when interviewing that allows you to demonstrate that you can apply your math skills in the real world and add value to a company.
For those about to start graduate school, I don't have much advice beyond what you've already learned.  I found that the skills and habits needed to be successful in graduate school are similar to those you learn throughout your undergraduate degree at Truman.