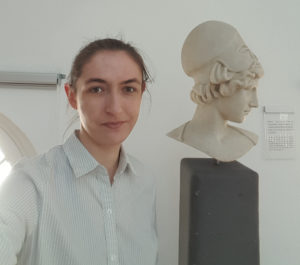 Katherine Maxwell
Postdoctoral Fellow at the Max Planck Institute for Mathematics
Bachelor's degree in Mathematics and Physics in 2015
Master's degree in Mathematics from the Univ. of Minnesota in 2019
PhD in Mathematics from the Univ. of Minnesota in 2021
Initially, I registered as a physics major because I had heard of cool ideas and deep results coming out of physics. Quickly, I then registered as a math major as well, since it was clear that math and physics are very closely linked, and it would not be much more work to complete a math major as well. And while I was right about how much overlap there is between the majors, I enjoyed taking math classes that were irrelevant to my physics courses.
Current Position:
I am currently a postdoc. Currently at the Max Planck Institute for Mathematics in Bonn, Germany, and soon at the Kavli Institute for the Physics and Mathematics of the Universe. Both of these positions are research postdocs in pure mathematics, without a teaching component. That means I spend my days proving theorems, discussing ideas with colleagues, writing math papers, and listening to talks by fellow mathematicians.
During my senior year at Truman, I applied for graduate school in mathematics programs. While I strongly considered applying for physics graduate school programs, I decided to pursue mathematics further since I wanted to learn algebraic geometry and other advanced mathematics topics. I entered a PhD program at the University of Minnesota Twin Cities, where I initially took classes and then started to work with an advisor on research in mathematical physics. During my last year in graduate school, I applied for research postdocs so that I could continue to work on the interesting ideas I had been exposed to in graduate school. I had good luck on the job market, despite uncertainties with the job market during the pandemic.
How I use math in my job:
Basically math is my job. Since I am interested in mathematical physics (that is mathematics motivated from physics) I find myself using whatever math is most convenient to study the physics, which means I work with a variety of different subfields of mathematics. I spend a lot of time reading math papers, and then figuring out new ways to put together math to create something interesting or useful.
Advice for students getting ready to hit the job market or apply to graduate school:
As a student graduating from Truman, talk to your professors and ask them about what types of jobs or positions you could apply for. Ask to be put in contact with (or seek out yourself) people working in the types of jobs you are considering. Ask these people questions about what they enjoy most about their job, what they most dislike about their job, and what sort of outlook they see for their profession in general.
As a recent graduate, you have a lot of opportunities. You should feel free to pursue anything that comes your way, but also feel free to switch jobs if something does not work out. Also, apply to as many places as you have time for. Sometimes you will get a job offer you were not expecting, and sometimes a job that did not sound exciting will end up being a good fit.
When I entered graduate school, no one at the University of Minnesota had heard of Truman. Don't let the fact that Truman is a small university limit your ability to grow and move on to bigger opportunities. Part of what your education at Truman did was help you learn how to learn, which helps you be successful at new challenges.