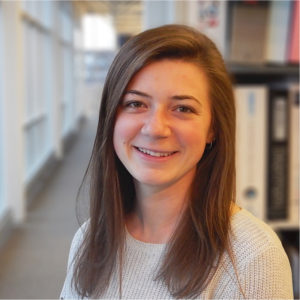 Courtney Cisler
Architectural Associate,
Flad Architects
Madison, WI
Bachelor's degree in Mathematics and Physics with minors in Environmental Studies and Art History in 2015
Master's of Architecture from the University of Oregon in 2018
Before entering college, I knew I wanted to be either a math or engineering major. I loved numbers, problems, and especially definitive answers. I was also artistic and wanted to find a career that used equal parts creativity and logic. Following in the footsteps of a particularly inspiring high school math teacher, I ultimately decided to start at Truman as a math major on the pre-MAE track.
Current Position:
I currently work as an architectural associate in Flad's academic division. I work from start to finish (conceptual design to construction drawings) on large projects – primarily science buildings for research universities. An associate position is a common choice for recent grads because a career in architecture has a rather linear path early on, though it branches off more in a few years after passing all the licensure exams. There are a variety of building types to choose from though, and Flad's work seemed like the perfect fit for me. Having taken four years of physics and education courses back in undergrad, I couldn't resist a job designing educational facilities for STEM majors. Flad is a fairly progressive, technology-driven firm, so their design interests also align well with my unusually technical background.
How I use math in my job:
The majority of the math I do on a daily basis is really just simple algebra in different bases (how long is 12' 4 7/8" + 1' 9 3/16" ?). Trig comes into play occasionally when dealing with things like sloped roofs and structure. Although architecture is often seen as a more artistic field, I've found that it really helps just being generally comfortable with numbers. If you can do approximate square footage and structural load calculations in your head while talking with the clients or engineers on a project, you're at an advantage. Architecture also has far more technical branches where math is used more heavily – things like building energy modeling calculations, code compliance, or designs which are driven by functions and parameters (there are firms that specialize in computational architecture!).
Advice for students getting ready to hit the job market or apply to graduate school:
Never underestimate the value of your math degree. Even in a more creative field like architecture, the problem-solving and logic skillset you develop in math courses is used daily in everything from conversations to the work itself. Employers recognize that your background in math makes you stand out from other candidates for a job, even when you might otherwise feel underqualified. And if you're still trying to figure out what to do with your degree, I would recommend looking back at any minors you may have completed. There's that joke that minors are what you're passionate about, while majors are how you're going to make a living. But with math being such a widely applicable field, that dream job that merges your other interests with your math degree might just exist.